How to register?
Go to https://medlemskap.nif.no/158874
Create an account by following the instructions provided on the website.
When you reach the page with the green checkmark, open the link called "Buy membership here" this link will take you to 
https://www.minidrett.no/profil/medlemskap/detaljer/158874
To change the language on the page to english click the button with your name on it in the top right corner, and a drop down menu will allow you to change language.
Follow the instructions on these images and the text below: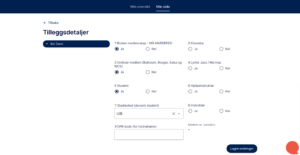 Pick your desired membership and course options in addition to all the boxes that apply to you. Do not forget to check off "Medlemskap vår 2023" (Membership spring 2023). This applies to everyone. If you have not received an invoice yet, in most cases it is because you have not answered "Yes" to this option.
When everything is done, press "Lagre endringer" / "Save and close". Your membership request has been sent!
A small pop-up bubble stating "Tilleggsdetaljer ble lagret." /  "Additional details were saved" will pop up if your changes have been made.
When your page at  https://www.minidrett.no/profil/medlemskap/detaljer/158874 looks similar to the image above, an invoice should arrive shortly. You will get an e-mail telling you that an invoice has arrived.
After receiving the mail with the invoice, go to https://www.minidrett.no/betaling and complete the payment there.
Congratulations, you are a member! Next time you attend a class, give us your name and student card (if relevant) and you will receive your membership card. Be aware that invoices are checked for and sent out manually, so try to register as soon as possible and well in advance.
Send an email to nestleder@bsi-dans.no if you have questions about invoices.